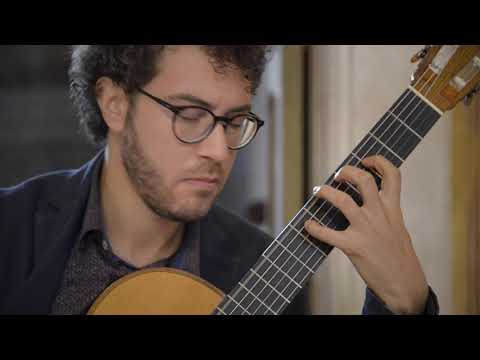 Andrea De Vitis is considered one of the most talented guitarists of his generation. He recently commissioned renowned Italian composer, Angelo Gilardino, to write a new piece for guitar to honor the memory of British guitarist, Julian Bream, who has recently passed away.
Bream's album "The Art of Julian Bream" was recorded on a 1957 Hermann Hauser II guitar
Julian Bream was a guitarist whose playing made a significant impact on the lives of many. His passing earlier this year shook the entire classical guitar world. In order to commemorate the memory of Julian Bream, Andrea De Vitis has released a video premiere of a newly commissioned piece by Angelo Gilardino called "Into the Rose-garden" inspired by "Burnt Norton", the first poem of T. S. Eliot's Four Quartet. This project is very special since not only are Angelo Gilardino and Andrea De Vitis the world's top-level artists, but it was also recorded on an analog tape (yes, without the use of computers!) in the beautiful Villa Falconieri – Roseto di Roma Capitale (The Rose-garden in Rome).
The choice of instrument for this recording was also meaningful. Andrea recorded on a 1961 Hermann Hauser II. For those of you who don't know, we had Bream's actual 1957 Hermann Hauser II SP/CSAR guitar at GSI. On this particular guitar, Julian Bream recorded his famous album – "The Art of Julian Bream".
The project was supported by Salvatore Sarpero, Gabriele Lodi, Accademia Vivarium Novum, SanzaMeta produzioni and the Hermann Hauser Foundation.
If you'd like to listen to more of Andrea's recordings, we'd like to encourage you to check out some of the videos that Andrea recorded in our showroom at GSI!