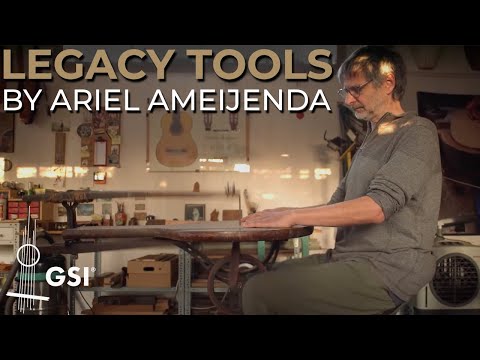 We've received a new video from our dear friend, a luthier from Uruguay, Ariel Ameijenda. Ariel has decided to create a short YouTube series dedicated to traditional tools used by masters from the past.
Legacy of tools have been passed from hand to hand over the years and are still in use today. It inspires us, instills respect and is a living testimony of how the teachers who came before us worked. The first episode of Ariel's short YouTube series is dedicated to a pedal saw which many of us have already seen in Ariel's other promotional videos. This unique pedal saw was made in Chicago in 1876 and is one of only very few surviving saws in such great condition with all original parts. This remarkable piece of history was given to Ariel by a friend of his grandfather who was a cabinet maker and obtained it originally from his teacher in the early twentieth century.
Ariel is planning to produce 7 videos within the series. Ariel also has in his collection a trimmer that was given to him by Santos to Orozco (senior) and a bending iron (made from coal) that came from the Ramirez II workshop.