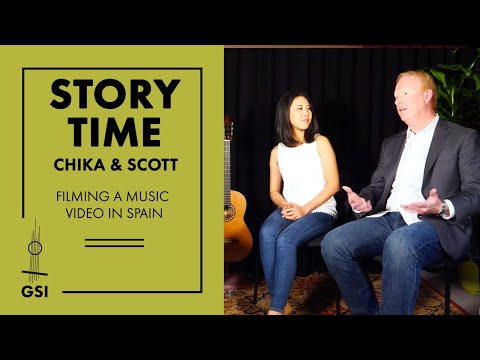 This edition of GSI's "Story Time" takes a slightly different turn, as we had the chance to sit down with the new duo Chika & Scott. The duo features internationally acclaimed artists Scott Morris (head of guitar program at CSU Dominguez Hills) and Chika Inoue, saxophonist with LA Phil and newly appointed faculty at CSUDH.
In this series of stories, the duo discuss the ins and outs of filming a music video on location in Spain, arranging for an uncommon duo, amplification challenges and solutions for live performances, recording at the famed Capitol Records Studio, and more!
We had a super fun time sitting down with them and learning a lot of things we don't typically think about in the guitar world. Scott has a lot of industry experience to share and these videos are a must-watch for any guitarist looking to gain insight on elements like video production, sound for live performance, recording, and arranging.
Update: Chika and Scott have just shared with us more information about their newest album called "Unfettered", which is going to be released on October 27, 2020! In February of this year, Chika and Scott recorded the tracks for this new CD in the legendary Capitol Records "Studio A", the same place where the biggest stars of popular music such as Frank Sinatra, Barbra Streisand and Nat King Cole recorded their famous albums.
Make sure to subscribe to our YouTube channel and follow the "Story Time" playlist on our channel page for weekly additions.
Chika and Scott have also released a series of live chat episodes on their Facebook page @chickaandscott. See full episodes below, or join them live on Wednesdays @7PM PST. In these episodes, Chika and Scott discuss topics such as: staying creative during lockdown, playing music with others, growing the "classical" audience.
Both comments and pings are currently closed.