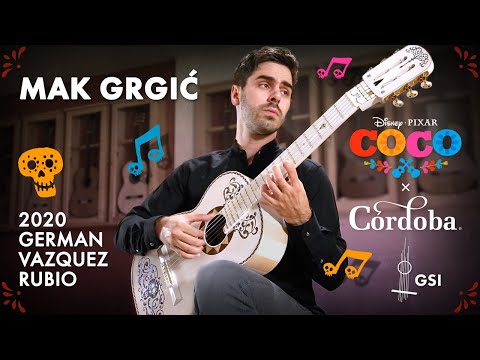 Celebrate this year's Day of the Dead together with GSI! This time, we have decided to prepare you for something very special – a video recorded on the famous Disney • Pixar's "Coco" guitar built by our friend, German Vasquez Rubio!
A Scene from the 2017 Pixar/Disney film, "Coco"
This guitar is very unique and special. It was featured prominently throughout the 2017 blockbuster Pixar/Disney film "Coco" which is Ernesto de la Cruz's whimsical Mexican-inspired guitar. When Pixar artists approached Córdoba Guitars about bringing this guitar to life, they were up for the challenge! Córdoba enlisted German Vazquez Rubio to help us in this process. The replica featured in this GSI video is a faithful "real world" re-creation of the animated original with a skull-shaped headstock, abalone inlays, 24K gold detailing, and hand-carved skull tuning machines. Only 20 were made in total for this very limited edition run. GSI received only two of these – No. 3 in 2018 and the final (this instrument), No. 20 in 2020.
Having the last guitar in this limited series, we decided to record something special on it. Our friend, Slovenian guitarist, Mak Grgić, has performed on this guitar music by two Mexican composers: Agustin Lara's "Solamente una vez" – a touching song arranged my Giuseppe Torrisi. If you're interested, the arrangement can be acquired through Torrisi's website (www.chitarrarte.it). Mak's second video recorded on this guitar is going to be released on our YouTube Channel on Monday, November 2nd at the end of the Day of the Dead celebration. In the second video, Mak recorded his own arrangement of Manuel Ponce's "Estrellita".