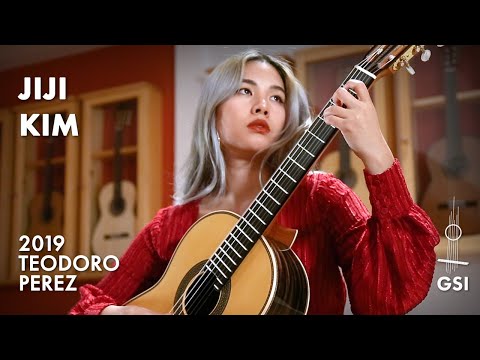 Jiji Kim recently stopped by our showroom and recorded some new videos! This is the third time that we've had the pleasure of recording Jiji performing music at GSI.
Jiji (Jiyeon Kim) was born in Seoul, South Korea. She began playing classical guitar at the age of nine, and was accepted to the Korea National University of Arts at the age of fourteen. She attended the Cleveland Institute of Music for two years where she studied with Grammy-award winner, Jason Vieaux, and David Starobin. She also earned her Master of Music degree from the Yale School of Music, where she studied with Benjamin Verdery. In 2018, Jiji moved to Arizona to start working at Arizona State University as an assistant professor of classical guitar.
Jiji's talent has been widely recognized. She was applauded by the Calgary Herald as "…talented, sensitive…brilliant." She plays both classical and electric guitar in music ranging from traditional and contemporary classical to free improvisation. She performs as a soloist and as an ensemble member. You might also know her as a member of the L I N Ü duo, in which she plays together with Gulli Björnsson.
During her most recent visit, Jiji recorded two videos at GSI: "Occhi Io Vissi Di Voi" by Claudia Sessa's on a 2019 Teodoro Perez "Especial" SP/AEand "Paisanos Semos!" by Tania León on a 1979 Manuel Reyes SP/CY.