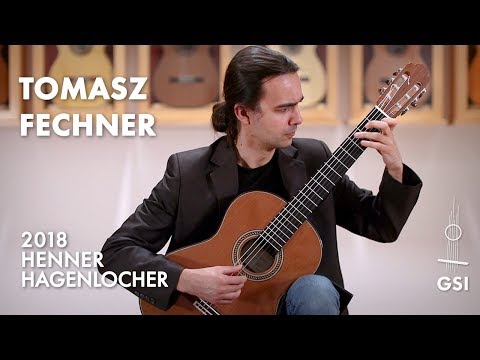 Our very own Tomasz Fechner who works at GSI as a marketing coordinator and the GSI Foundation consultant has recently recorded 10 videos on 10 different guitars, featuring music by Joaquin Rodrigo, Heitor Villa-Lobos, Mauro Giuliani and Francisco Tárrega.
Tomasz is originally from Poland and came to the United States in 2014 to pursue his second master's degree as a Fulbright scholar. He has recently graduated with his doctorate degree from the University of Southern California where he studied with William Kanengiser and Pepe Romero. On his graduation day, USC Thornton School of Music has awarded him with four different awards for his academic and artistic achievements.
When Tomasz lived in Europe, he was actively participating in many international classical guitar competitions and was a winner of 16 national and international prizes. Since moving to the United States, he purposely stopped attending guitar festivals and put a lot of emphasis on his academic studies at USC, as this new environment offered many additional academic opportunities which Tomasz didn't have when he studied at a conservatory in Poland which was focusing mostly on playing skills. While studying in Los Angeles, Tomasz cooperated closely with USC Polish Music Center to develop a performance edition of Sonatina for Guitar by a Polish-American composer, Roman Ryterband who wrote his only piece for classical guitar shortly prior to his passing in 1979. Thanks to Tomasz's research and the support of USC Polish Music Center Sonatina for Guitar has finally been published by a large Polish publishing house PWM after 40 years since Roman Ryterband composed it.
Tomasz has been a long-time friend of GSI and has recorded many videos with us. Recently he has also recorded a series of videos and tutorials with EliteGuitarist.com (Read more). During his most recent GSI recording session he recorded all three movements of "Tres piezas españolas" by Joaquin Rodrigo – I. Fandango on a 2018 Henner Hagenlocher "25th Anniversary" CD/CSAR, II. Passacaglia on a 2020 Florian Blöchinger CD/CSAR, III. Zapateado on a Felipe Conde "CC 36" CD/CO. He has also recorded: thee movements from "Suite populaire brésilienne" by Heitor Villa-Lobos – I. Mazurka-Chôro on a 2020 Zoran Kuvac SP/CSAR, II. Schottish-Chôro on a 1998 Manuel Contreras II "Double Top" CD/CSAR, III. Valsa-Chôro on a 2018 Julia Wenzel SP/IN, three pieces by Francisco Tárrega – "Danza Mora" on 1964 Jose Ramirez "1a MT" SP/CSAR, "Capricho Arabe" on a 2020 Hans van Velzen "Santos" CD/CY, "Recuerdos de la Alhambra" on a 2020 Elias Bonet CD/AR, and Mauro Giuliani's "Grande Ouverture, Op. 61" on a 2007 Fritz Ober "Apprentice" CD/IN.